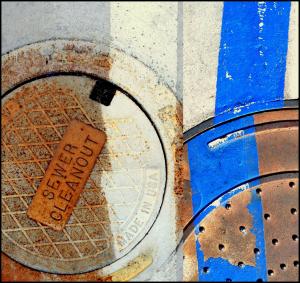 Am I guilty that I am a life long, professional painter and haven't picked up a brush in a year?
Nope.
I welcome you to take a peak at my journey as an ever evolving artist, honing my craft daily.
I am still in process, but have come to realize that an artist 's eye is an artist's eye, regardless of what is in his hand.
Here's how it all started.....
Four years ago I was stepping out of a taxi in front of the MoMA in NYC.
As I exited, I tripped, followed by a perfect face plant on a manhole cover.
Instead of rushing to get out of the busy street with cabs heading in both directions, I stayed in the moment and stared at the most beautiful rust covered piece of metal that I had ever seen. I whipped out my iPhone and snapped a pic. Suddenly, abstracts were appearing everywhere. I found magnificent cracks, in the sidewalk, blobs of asphalt, dynamic diagonal painted strips. I never bothered to look up...my new abstract world was literally and figuratively, laying at my feet.
Little did I know that my future as an abstract artist would be forever changed....
Please join me as I unfold a most exciting time in my career as I share my experiences and images with you!